You're in the right place if you want to
– nurture your creative child
– bring art into your home and classroom
– learn how to set up an art space and provide fun and engaging art activities
– build your confidence as an art teacher and your child's confidence as an artist
– learn about famous artists and world culture
– support learning across the curriculum through an arts-based approach
– find easy and accessible art lessons that focus on fun, process art explorations
– spark your child's creativity!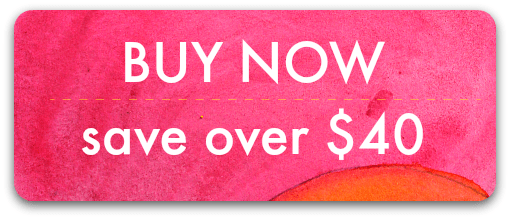 This Art Spark workshop will give you all the ideas, encouragement, and support you need to have delightful art adventures with your child.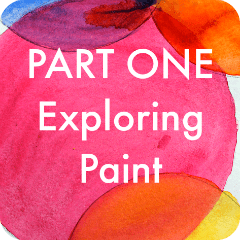 Art Adventure Focus: Exploring Paint
Art Activities: process art techniques using watercolors and a variety of supplementary materials
Learning Topics: How to set the tone in your art practice ::  How to talk about art
Artist Mentors: J.M.W. Turner, Henri Matisse, Paul Klee, Agnes Martin, Franz Marc, John Rolf
Workshop Value: $19.99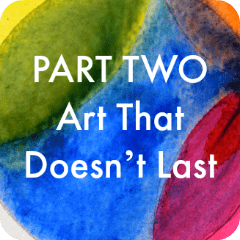 Art Adventure Focus: Transient and ephemeral process art
Art Activities: shaving foam paint, milk and dish soap art, painting with ice, marbling, land art, chalk art, painting with the rain, beach art
Learning Topics: What is art? :: Documenting our art
Artist Mentors: Andy Goldsworthy, Simon Beck
Workshop Value: $19.99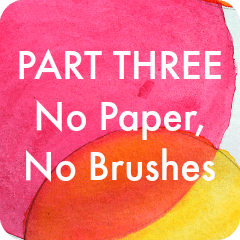 Art Adventure Focus: Exploring alternatives to paper and paintbrushes
Art Activities: Painting on foil, bubble wrap, sandpaper, the bathtub, bark, thick card, leaves, wooden boards, a tree trunk, a wall… Painting with: pinecones, sticks, leaves, toy cars, toy dinosaurs, potato mashers, feathers, feet, hands…
Learning Topics: How to set up your art space :: How to source materials
Artist Mentors: Jackson Pollock, Bernard Pras
Workshop Value: $19.99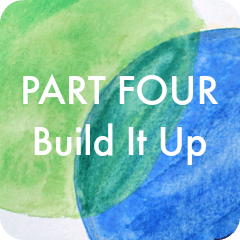 Art Adventure Focus: Working in three dimensions
Art Activities: sculptures
Learning Topics: Visiting art galleries :: How to find inspiration
Artist Mentors: Alexander Calder, Barbara Hepworth, Alberto Giacometti, Theo Jansen
Workshop Value: $19.99


Bonus :: buy the bundle now to save over $40
AND receive the Art Spark and Nurture Art ebooks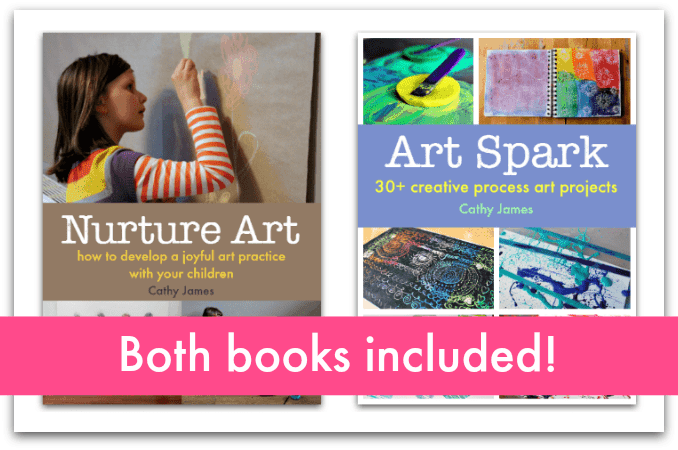 Nurture Art :: full of ideas and practical tips that will get you easily set up and enjoying art. You'll develop your own understanding of arts education and learn skills to positively nurture your children's creativity, using supportive language, growth mindset techniques, and visual thinking strategies.
Art Spark :: packed with gorgeous photographs and art ideas that you'll be excited to try with your children. It includes 30 art projects, with lots of extension ideas, that make it easy for you to explore creative techniques with your children – ideas you can keep using as your children grow.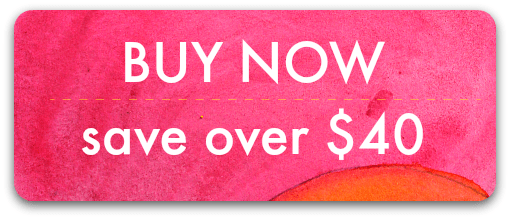 Would you like to make art with your child but you don't know where to start?
Need help with the overwhelm so you can easily select the activities that work best for children?
Fed up of setting things out only to find your child loses interest after a few minutes?
Want ideas to help combat your fear of all the mess?
Need techniques to support a perfectionist so they can enjoy making art and not worry about 'mistakes'?
Want fresh ideas so art is exciting and engaging?
Yep. That what most of us want.
What if I told you you can easily do this?
You can get started today, using basic materials that you likely already have at home.
I'll show you how you can become a confident art mentor and support your creative child.

We'll have an amazing art adventure!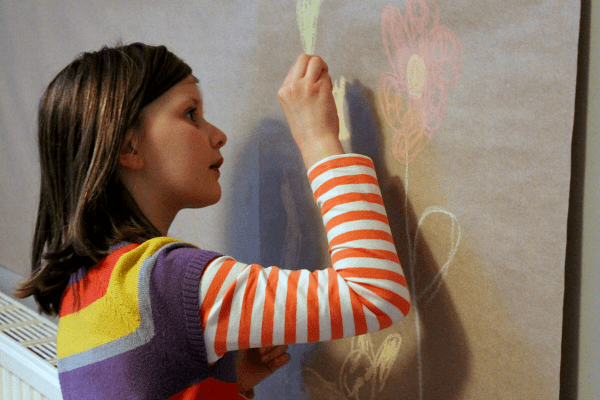 What's included in the Art Spark Bundle?
When you buy the bundle you'll get instant access to four art workshops, via the NurtureStore membership site. The membership site provides you with an ad-free environment, making it the perfect platform to use with your children at home or in class.
You can access the membership site and complete the workshops at any time. The workshop format is flexible and allows you to decide how many individual art projects you want to do, and over what timeframe.
The workshop is suitable for all ages, from toddlers and preschoolers, through elementary and middle school-aged children, and even up to teens and adults.
Each workshop includes: many art projects to try, with detailed instructions and photographic guides; famous art works matched to the workshop themes; introductions to famous artists and art history education; learning topics for parents/teachers to develop your art practice, teaching skills, and knowledge of arts education.
BONUS: the bundle also includes two free ebooks, Nurture Art and Art Spark. These practical and inspiring books support you in the workshop and beyond, giving you practical and inspiring resources to use with your children so you can keep enjoying art for years to come.
The workshops and ebooks are valued at $104.95. Buy the bundle now for only $59.99 and save over $40!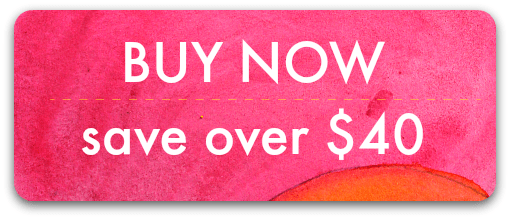 "My kids actually enjoyed art for the first time. I have an 8 and a 6 year old. Usually when I put out art projects, I spend a lot of time setting up, and they are done in 2 minutes flat. But through this class I learned how to talk to them about the process and not encourage or discourage how they were taking part in the art process. Which was a VERY difficult challenge for this mom. But I did not even know I was doing that to my kids, until I took this class."
"Loved the introductions to famous artists – an entry into the mind and world of an artist."
"Having so much fun with this week! I feel like the unconventional projects are opening up my perfectionist to doing art without it needing to be 'right'."
"It was so nice and relaxing to spend time with my son and just create together."
"The boys are really into this! I'm so glad I signed up."



Important Information
By purchasing items from our website you consent to our Privacy Policy. All ebooks and other digital products are subject to copyright and may not be shared or distributed in any way or form.
We recommend you use the free Adobe Acrobat Reader app to view your ebooks. Other PDF reader apps may work for you, but we have tested all our ebooks in Adobe Acrobat Reader.
With the exception of the United Kingdom, this product is not available for purchase in the EU.
Any other questions? Please email support@nurturestore.co.uk and Cathy or Sean will be happy to help.