Join me for an arts-based, creative, hands-on Spring Workshop. Over four weeks (and beyond) we'll learn about nature, the seasons, and spring, inspiring and engaging our children to wonder, create and learn.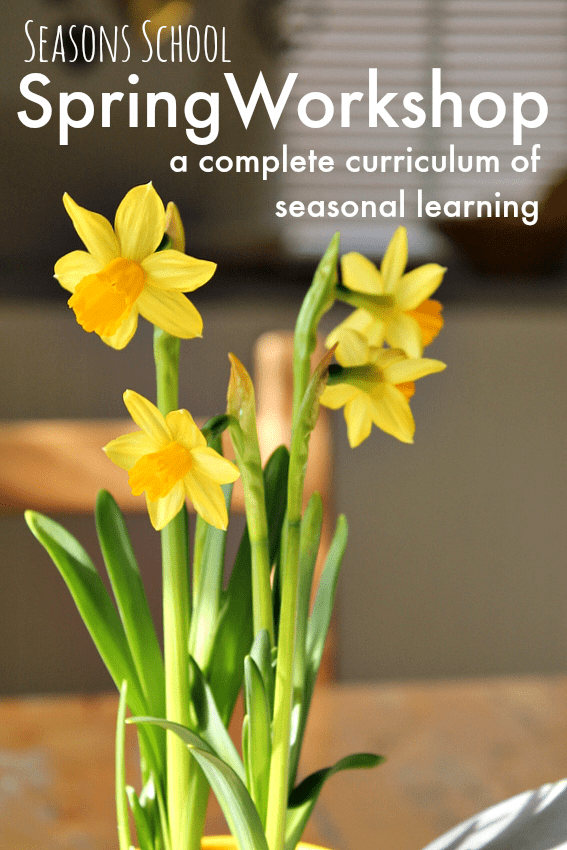 Join me for the Seasons School Spring Workshop
It is so important that we give our children a connection with nature. While so much of our lives are focused on busy, screens, and to-do lists, we still need to hold on to that centuries-old link that people have with the natural world.
Spring is an exciting time of year. After the still, quiet, restful winter, the earth is ready to burst into action! Children are ready too, and this workshop will engage their natural curiosity in activities that encourage them to play, explore and learn alongside the riches that nature offers.
This workshop is a blessing for you too. I have planned a programme for you that is rich in materials and learning, with a balance between the activities to give a nice rhythm to the weeks. Everything is organised for you: topics, experiments, the flow of the activities, lovely printables, educational resources, and fun ideas. You can relax through the four weeks and enjoy the workshop as much as your children – because I'll guide you through it all. No scrambling for ideas on a Sunday night, no panic because you haven't done any math this week, no feeling like you're missing something important.
Relax – follow the programme and your whole family will be engaged and learning, heading into the new season with a spring in their step!
The whole of the Spring Workshop is connected, so that our learning is wide and deep, and to encourage children to make connections through hands-on, real world experiences – the very best way to learn.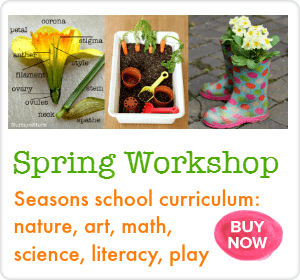 Join the workshop here
:: This workshop has been created with children aged 4 to 8 in mind, but you can easily adapt the activities to include younger and older children, making it perfect for families. Everyone can learn alongside each other, sharing one programme for whole-family learning.
:: The programme works whether you are at home, or school. I will guide your through the workshop each week, and you will also have access to a clearly-organised complete resource from the beginning, so that you can easily adapt the workshop to perfectly suit your timetable, or particular interests.
:: The workshop costs $59.99 for the full four weeks. You'll have ongoing access to all the materials, including a great set of printables. You can also bring a friend for free – making it twice the fun and half the price!
Click here to register for the workshop now.

A season of exploration :: creativity :: learning
Through the Spring Workshop you will be exploring and learning about the key aspects of the season. With Spring as our theme, we'll explore right across the curriculum: using art, play, nature, experiments, and hands-on activities to learn aspects of math, literacy, science, art, life skills, and that all-important special relationship with nature.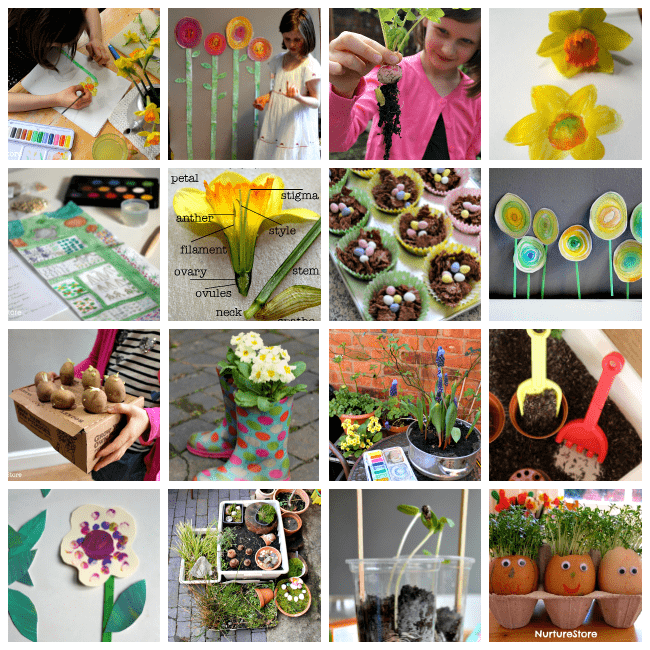 A gentle days-of-the-week rhythm
The workshop follows a days of the week rhythm, and is structured carefully to allow you to also adapt the activities to suit your own timetable
On Mondays we focus on kitchen and garden, with hands-on recipes, planting and life skills.
On Tuesdays we focus on art and crafts, with a beautiful range of projects to try including watercolours, wax crayons, oil pastels, egg dying, puppet making and process art.
On Wednesdays we focus on nature study, heading outdoors to focus on different aspects of the spring environment.
On Thursdays we focus on math and science, with interesting experiments and a collection of hands-on math games.
On Fridays we focus on language and literacy, with ideas for seasonal reading, storytelling, poetry, journaling, and letter and spelling games.
On Saturday we focus on play, with small worlds, active play for our body, and sensory play invitations
Sunday is our day of rest. You might like to take a nature walk, use some of the printable colouring sheets, or try out some of the seasonal recipes included in the workshop.
The whole workshop is connected, so that our learning is wide and deep, and to encourage children to make connections through hands-on, real world experiences – the very best way to learn.
Our weekly themes
We also work with key topics each week.
In Week One we welcome spring, learning about why we have spring, how nature changes, and how we can welcome the season into our home.
In Week Two our focus is on daffodils, with art, science and literacy learning all based around these beautiful flowers.
In Week Three we explore eggs, cooking, decorating, experimenting, journaling and playing with them.
In Week Four we are working with seeds and sprouts, starting our own spring garden.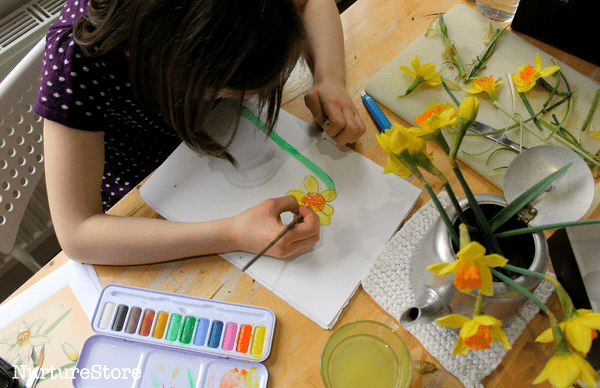 Added Extras
Along with the guided workshop you will receive:
:: printables to support the activities, for learning, journaling and play
:: video resources to explain the key ideas of the season, carefully chosen to communicate well with children
:: a Facebook group where you can join me and other workshop-ers, for community, chat and connection
:: live support from me throughout the workshop, to help with any questions you may have
:: and you can bring a friend for free – making the Spring Workshop half the price and double the fun!

Great price – and bring a friend for free!
If you've looked at other curricula, you'll know how expensive they can be. The Spring Workshop is a great affordable choice, giving you four weeks full of activities for just $59.99, for the whole family. Even better, you can bring a friend for free.
Pair up with your spouse, your friend, your neighbour, your sister, your brother, or a grandparent, gather all your kids and join the workshop together.
Click and register yourself, and then when you receive the email from me confirming your booking, just email me back with your friend's name and email address and I'll add them in to the workshop too.
You can join the workshop at any time, so reserve your place now.

Why do an online workshop?
You know what it's like when you're leading an activity: so much of the thinking, organising, and prep falls to you. With this Spring Workshop, I've done this work for you.
No lengthy planning time, no scrambling around trying to find activities. I've done all the prep for you so you can simply join in and enjoy it.
An online workshop is a fantastic way to be able to work at your own pace and to suit your family's timetable. It also lets you connect with other families in a like-minded community.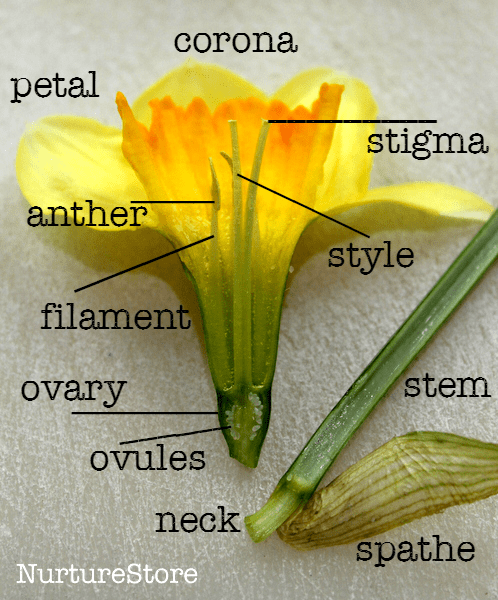 Frequently Asked Questions
Can I join the Workshop if I live in America, the U.K., Australia, anywhere…..?
Yes. This is an online workshop and printables which means you can buy them and join in wherever you live in the world. Our payment processor will take care of any currency conversion for you. All the materials are delivered in English.
What age children is the Workshop suitable for?
The Workshop has been designed with children aged 4 to 8 in mind, but you can adapt the activities to include younger and older children.
How much is the Spring Workshop?
The Spring Workshop costs $59.99. This includes four weeks of a guided online workshop, membership of the private Facebook community, lots of printables which are yours to keep after the course ends, and daily support from Cathy throughout the four week adventure. Reserve your place here.
You can bring a friend for free. Click and register yourself, and then when you receive the email from me confirming your booking, just email me back with your friend's name and email address and I'll add them in to the workshop too.
Can I do the Workshop at home?
Yes, you can. The workshop can be done daily, after school, at the weekend, or as part of a homeschool programme.
Can I do the Workshop with my class / community group?
Yes, you can. You'll receive all the materials and resources as soon as the workshop opens so you can plan the activities to suit your individual needs. The integrated curriculum works across math, science, literacy, art, nature study and play, all through hands-on activities. You can let it be your focus for your spring learning, or have it run alongside your existing programme as an enhanced learning experience.  You can make a group booking for you and your colleagues so you can work through the workshop together. Email me (support@nurturestore.co.uk) and I can arrange to invoice your school/community group directly.
Do I need any special materials to join in?
The projects have been designed to use basic supplies. It's likely that you will have many of the materials already on your craft shelves. When you register I'll send you a list of some things you might like to gather in preparation for the workshop, including daffodils, eggs and seeds.
How is the Workshop delivered?
The Workshop is delivered through the NurtureStore Workshops website. You can also choose to use the private Facebook group and Instagram. You will receive weekly emails from me to guide your through the programme, plus live support for any questions you may have.
When does the Workshop start?
The Workshop opens on Friday March 17th. You can register now, and you can also join after March 17th: you'll still get all the materials and the full four-week course. Join now here.
Do I need to join the classes at a certain time of day?
No, you can do the Workshop to suit your own timetable. It has been designed to work throughout the time zones. You'll receive a weekly email from Cathy, and she will be available through the workshop in the private Facebook group. You can use the daily materials to fit your own personal timetable, joining in with the community on Facebook and Instagram whenever you want to.
How much time each week will I need to devote to the Workshop?
You can take part in as much of the Workshop as you want to. The programme has ideas for each day of the week, but none are compulsory, so you can mix and match to suit your own needs. The resources are also clearly organised, allowing you to focus in on particular aspects that may interest you, such as the art or science elements. You can also use the programme after school, at weekends, or through the Easter holiday. It's flexible so you can make it work with your plans, and dive as deep into the materials as you like.
How long will I have access to the Workshop materials?
You will have ongoing access the materials through your NurtureStore Workshops membership.
What technology do I need to join in with the Workshop?
You will need a device and internet connection so that you can read emails and this, and other, websites. The video content is via YouTube and Vimeo. The Workshop community will be hosted on Facebook and Instagram. We recommend you use the free Adobe Acrobat Reader app to view your printables. Other PDF reader apps may work for you, but we have tested all our printables in Adobe Acrobat Reader.
Do I need to be on Facebook to join in?
No, but the community aspect of the Workshop will be hosted there so you will get the most out of the adventure if you join in with the private Facebook group.
Can I share the materials with my friend/colleague?
Your friends and colleagues are welcome to join us but they will need to purchase their own workshop registration. You can take advantage of the 'Bring a friend for free' offer: let us know the name and email address of one person you are bringing and we will add them to the workshop. All the materials are copyright protected and can not be shared with others. Access to the Facebook group, weekly emails and log-on details will only be given to people who have purchased the Workshop or been registered by a full fee-paying attendee as their 'friend'. Please email support@nurturestore.co.uk if you would like to make a group booking for you and your colleagues as we can arrange for one invoice to be sent directly to your school.
Any other questions?
Please email support@nurturestore.co.uk and Cathy or Sean will be happy to help.
Important Information
By purchasing items from our website you consent to our Privacy Policy.
All ebooks, printables and other digital products are subject to copyright and may not be shared or distributed in any way or form.
Meet Cathy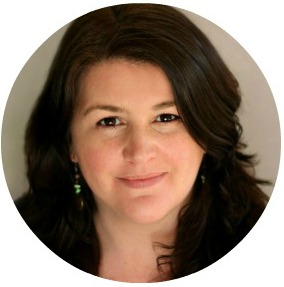 The Art Spark Workshop is run my me, Cathy James. I'm the creator of the NurtureStore website, and the author of several books including The Garden Classroom and Super Sensory Invitations to Play. I hold a Bachelor of Arts degree and have over twenty years experience working in the field of education. I've worked in a wide variety of settings and with all age groups: from babies, toddlers and preschoolers; through the school ages; to adult learners. I now homeschool my two daughters using my arts-based, child-centred curriculum. I'm really looking forward to hosting the Spring Workshop, and I welcome you to join us for a glorious season of exploration, creativity and learning.